Stock badges RUSHED to your door! Visit the Stock Badges section on our menu for the wide selection:
What some of our customers say about badgesource.com and our Smith & Warren products:
...wow, I figured your badges were top quality but, WOW. Dennis
I received the badge today and... it's beautiful. RW
Just wanted to let you know that I received my ID wallet and I must say that I am very impressed with the quality of your product! JG
I received the badge in the mail today. I just wanted to thank you. Wow, it really turned out nice and quality very professional. I'll be referring some of my other retired buddies who also work executive protection to you. JD
I am very much pleased with both badges. The quality is exceptional in fact, the pin on those is of better quality than the originals. AW
Received our department hat badges today, great as always. Chief JA

I just had to let you guys know that I got my badge today and I'm very IMPRESSED with it. I have never seen such craftsmanship, it's beautiful and I will be doing business with you guys and I will let all my friends know as well, thank you very much. MW
I want to commend you on the quality of your service and the products. The badges are incredible and the leather products are fantastic. Keep up the good work. RM
Get that one-of-a-kind appearance with your own custom security badge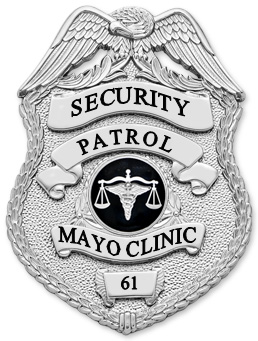 Our model S657

Our model S81B (in gunmetal - order as GOLD and denote "gunmetal" in instructions).
Badgesource.com is proud to offer the full line of Smith & Warren Badges and Perfect Fit Leather accessories!
Our custom badges and leather are proudly made in the USA!