What is VisualBadge?
Visual Badge is a customized program that lets you easily design and build your badge design right before your eyes. Everything is customizable including lettering, seals, enamel colors and finish. You choose the proper attachment for your application. Dimensions are given for each badge and the preview is meant to be a reasonable likeness of your design. Give it a try: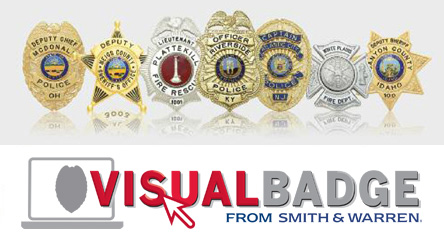 Can I order a badge with my logo or custom center seal on it?
Yes, we do make custom seals for badges, however, it does require a custom die be made. When you design your badge on VisualBadge, use the word "CUSTOM" in the area asking for the seal model number rather than leaving it blank. This will correctly price out the badge itself. You will be unable to pay for the custom die charge online, we can work with you to set up the order and collect the payment. Please contact us for more information and custom/corporate center seal die charge pricing before placing your order.
What does attachment mean?
The attachment is on the back of the badge and it is an important part of your design. Pin & Safety catch are typically used for wearing the badge on a uniform shirt. Wallet clip should be used to put the badge in most leather badge accessories. Screw post is for the hat or is very useful when making plaques. The clutch attachment is used for nameplates and collar insignia. The clutch attachment can be seen on the picture with the screw post (at the top of that badge).

What does "shell" mean?
Some badges come with solid back and some come with shell back. On some shell back badges, you can opt to fill the back of the badge in, making it a solid backed badge. Not all shell back badgescan be filled in solid. Shell back badges that can be upgraded to solid back will have a choice for the option on the design page.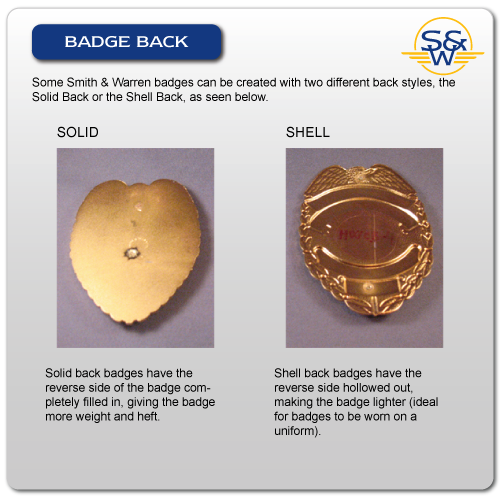 Should I have my badge made flat or curved?
It depends on how you are going to wear your badge. Curved is most popular for wearing on a uniform and, is some cases, a leather accessory such as a universal belt clip holder. Flat is best used when you are putting your badge inside a custom-cut leather accessory. In that case, using a wallet clip and flat forming, the badge lies properly in the recess of the badge case.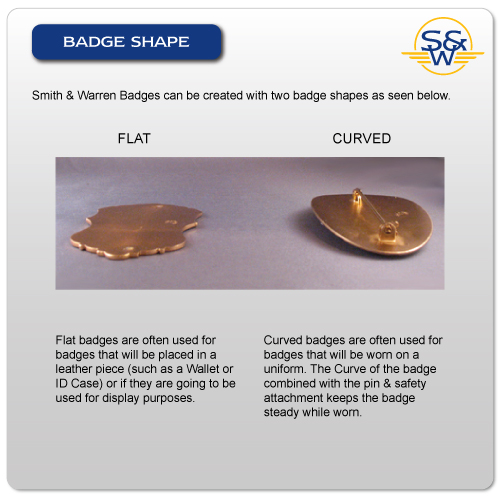 What is a text separator?
Text separators are traditionally used on a circular paneled badge. They break up the circle into two distinct panels and are basically ornamental. You can choose stars or dots.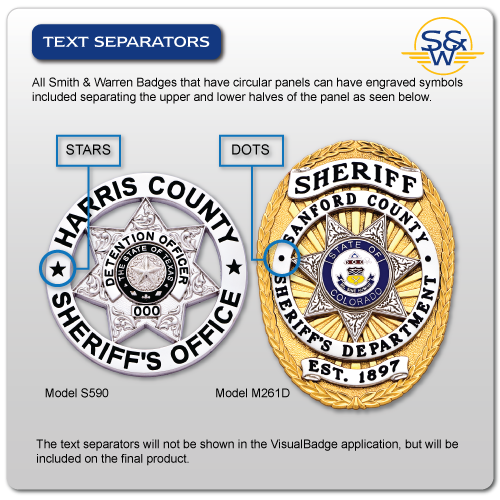 How many words can I put on a badge?
Our program is set up for all badges in our catalog. Each badge may have different size panels that can accommodate a large amount of text or just a few letters. As a general rule, when you see letters beginning to touch each other in the design, you are using too much text and we would be unable to engrave it as you designed. If that happens, please re-word or abbreviate as needed. Below is an example showing how proper wording should look (line 1) and "too much" text (line 2):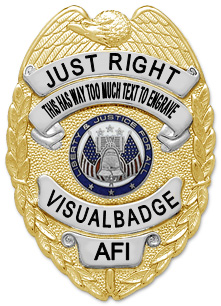 Can anyone buy a police badge?
Badges with law enforcement TITLES (wording such as POLICE, SHERIFF, FEDERAL AGENT, FBI) are only sold to those in law enforcement. If you place an order for a law enforcement badge, you will be asked to provide a photo of your department credentials (ID) or a letter of authorization from your department. We do not sell law enforcement badges to collectors. If you order a badge with Law Enforcement/Federal titles without proper credentials, you will be asked to revise your order. If you choose to cancel the order instead, we will deduct a 5% transaction cancellation fee to cover our credit card transaction expenses. If you have any questions whether your badge will require credentials, including "Retired" badges, please contact us prior to placing your order. Please review our ordering policies HERE.
How long does a badge take to make? / Where's my badge?
Depending on the options your select, custom badges take between 4-6 weeks to produce. Custom badges are made from scratch and go through about 27 different production stations and quality control stops. Badges with premium finishes or custom center seals may take a little longer. You can see how badges are made HERE.
How do you know what I am ordering?
When you add your badge design to your cart, that information is sent to AFI just how you designed it. Once you've made your payment, that information is also sent to AFI. We will fill out an order form for you and email it back to you for confirmation, clarification or discuss any issues with you. So keep an eye out for the order form within less than 24 hours after you order. If you don't receive it, check your spam folder.
Do you have wallets for my badge?
Yes, we have a full line of custom-cut wallets, Badge/ID cases, belt clip holders, neck holders, etc. See our Leather section for your choices or select them from the VisualBadge design page. The pictures of the badge you see on the wallets and cases are for example only. All custom cases are cut to the badge you order.
NEW:
How to install your badge in your custom leather accessory
Should you have any questions we might have missed, feel free to call or email us
Proud to offer the quality badges of Smith & Warren EXCLUSIVELY!